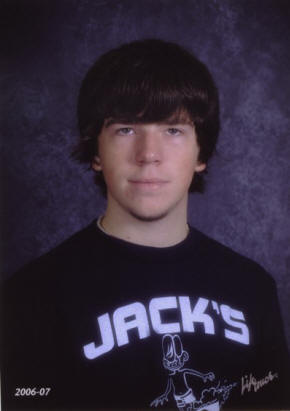 In Loving Memory
Grant Michael Gallagher
On November 18, 2006, God called our son and brother, Grant Michael Gallagher, home. He died tragically, the passenger in a car accident in Irmo, South Carolina, less than mile from Dutch Fork High School where he was a sophomore. This website is dedicated to his memory and the wonderful gifts he brought to us for sixteen years.
If you knew Grant, we ask you to leave a message in our Memories Book.
As a memorial to his life and his love of music, the Grant Gallagher Music Scholarship Fund has been set up with the University of South Carolina where his brother, Gerald, currently attends school.
You can make a donation by sending a check to:
Grant Gallagher Music Scholarship Fund
USC Development Office
1600 Hampton Street, 7th Floor
Columbia, SC 29208
USA
We invite you to browse the website, add your comments, and learn more about a wonderful person, loved by all and taken away from us much too early.
With love and thanks to our friends and family,
Gerry, Kim and Gerald Gallagher.
Special Note: As a "work in progress" this site will be constructed over the coming weeks and months, as we are able to add materials from Grant's past. Needless to say, this is a painful and difficult task that will take us some time to accomplish. We invite you to visit again to see the site's progress. If you have any photos (or other materials) you would like to submit for inclusion, please click here.
OTHER WEB SITES:
Grant also maintained his own website at www.myspace.com/mrgallagher which is now being managed by his brother Gerald.